This post brought to you by Walmart. All opinions are 100% mine.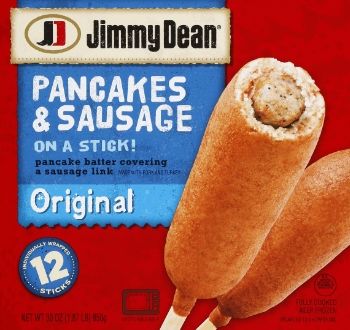 I've admitted here on my blog many times that I'm not the main cook in the family. That would be my husband. I'm more the sides and desserts girl. Soo….for that reason, a big breakfast just goes out the window most mornings. Unless it's the weekend and hubs is home.
I keep a freezer full of breakfast-y things and I have a thing for breakfast sandwiches, whereas, little man prefers stuff more along the sweet side. We've been buying Jimmy Dean® products for years. My mom always bought their sausage. So when they came out with these little convenient breakfast items I found at Walmart in the freezer section, it was like kizmet.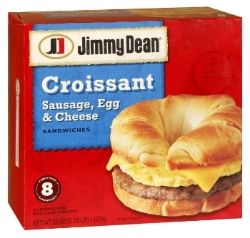 These little beauties are perfect ANY time. My husband likes to take the sausage, egg and cheese croissant with him to work in the mornings. He also tends to grab one on busy Saturday mornings as he's headed out the door to do yard work. There packed full of protein and seem to really tide him over until lunch time.
Since corn dogs have always been a hit in our house, it's no wonder the Jimmy Dean®  Pancake and Sausage on a stick is well loved. What's not to love?! Anything on a stick is more fun to eat….plus you can PLUNGE it into some yummy syrup! That's mine and little man's favorite thing to do. Dunk, dunk and dunk!
All of the Jimmy Dean® breakfast items are microwaveable (hello, convenience!) and ready in less than 3 minutes. The pancake and sausage on a stick actually takes less than a minute!! So – if you're looking for some breakfast-y convenience in the mornings, grab this Jimmy Dean® $1 off coupon and head to Walmart to try some for yourself – and Have a better breakfast!
 Have you already tried the Jimmy Dean® Breakfast items? Which is your favorite?