This is a Sponsored post written by me on behalf of White Cloud. All opinions are 100% mine.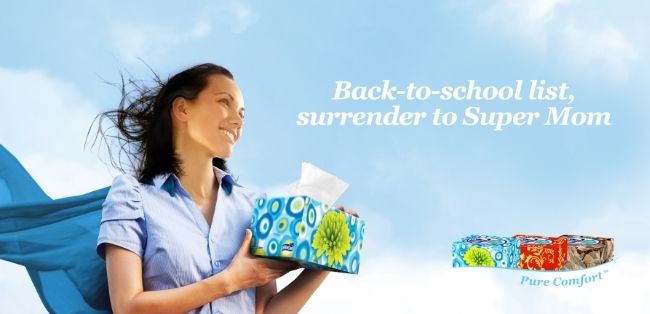 I can't believe it. Back to School season is in and I feel like we just went on vacation! Sending kids back to school gets really expensive, especially if you have more than 1 child in school. Do you get overwhelmed when you start thinking about shopping? So, with the help of White Cloud, we can tell those never-ending and daunting back to school lists to surrender to Super Moms everywhere!
Did you know that the National Retail Federation's statistics show that parents spent almost $700 on back to school shopping last year? Talk about a dent in the wallet!
Here are just a few recommendations that I have for shopping back to school. First off, set a budget and STICK to it! Get what you have to have first and then let the rest of your budget cover the things that are "wants" vs. "needs". As far as supplies go, you can find lots of deals in retail stores like Walmart. Also consider shopping online at discount supply stores. Bulk packages of supplies can be used throughout the year. Bigger out of pocket up front, but savings prevail in the end!
For saving on clothes, shoes and accessories – I always look for deals online, especially if I can get free shipping! Walmart has lots of great clothes online and instore. Plus…when shopping online you get GREAT shipping rates. For supplies and clothes, shop year round. Just whenever you find a great deal – snatch it up and don't wait until you have to pay full price later when you actually need the item!
Most schools hand out a list of supplies/items needed to bring in. Most often, facial tissue is on the list and that's a good thing. Fall and beginning of school season brings lots of buggies around so they're great to have on hand, even in the classroom! Bet you didn't know – you can support Children's Miracle Network Hospitals just by purchasing the limited edition White Cloud CMN Facial Tissue boxes!! I love when purchases like that benefit an awesome organization!
White Cloud products are sold exclusively at Walmart. Check the White Cloud Store Locator  to see if it's sold in your area. You can find 3 or 6 boxes in one package which is perfect if you have multiple kids going back to school! They're super duper soft and soothing on those dry noses…they're the epitome of Pure Comfort™. Before you go to grab your package of White Cloud Tissues, visit the White Cloud Facial Tissue page to get a $0.75 off coupon!! You'll also find the coupon in the July 28th newspaper FSI and the following magazines!
o Better Homes & Gardens
o Good Housekeeping
o First for Women
o Cosmopolitan
o Woman's Day
o O, The Oprah Magazine
o Family Circle
o EveryDay with Rachael Ray
o Country Living
o Fitness
o House Beautiful
o Redbook
o Ladies' Home Journal
Stay more up to date with promotions and news on the White Cloud Facebook Page or White Cloud Twitter Page. You can also check out their White Cloud Pinterest Page for fun ideas and things to pin!